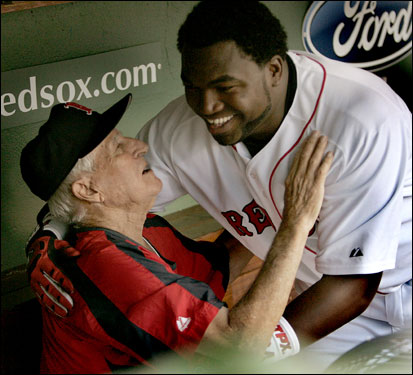 So in a matter of a week the Sox trade their best hitter since Yaz (Ten Rule: Ted Williams) and then Ortiz feels
a pop in his wrist
. Add to that the fact that our two up and coming stars Ellsy and Clay can't seem to find their groove in the second half and this spells trouble. Nothing against John Lester, love the guy couldn't be rooting for him to succeed any more, but he is our best pitcher. Beckett our horse is a miesly 9-8 with a 4.15 ERA. What the F! Granted the Jason Bay thing is working thus far but I just don't see enough firepower to beat the likes of the Angles the way they are looking. The pitching staff is looking like they did in April Shaky. I mean christ Youk is leading the team in RBI's and now Lowell and Ortiz are both ailing. Things are not looking good. I'm not counting them out because anything can happen as long as they make the postseason. Right now it doesn't look very good when they are 3 back of the Rays and losing meaningful games to the Royals. The Sox can still pull a big win streak here, but time is of the essence and they need it soon. Losing Papi would be devastating. By the way can people stop trying to say Bay is better than Manny. The guy hit one monster shot and all the sudden he's Julius F'n Ceaser.
So when does the Pats Dynasty run continue/ NFL regular season start?
P.S. Loving the Jed Lowrie era it anyone else feel like we're watching Woddy Harelson in
"White Men Can't Jump"
Billy Hoyle
: You are so stupid. It would take your mother 1, no. 2 hours to watch 60 MINUTES.