Here are some notes regarding the Bo Sox.
(Giselle Approved!)
In case anyone is wondering just how the Bay/Manny trade is going. I like Bay but look at Manny's God Damn numbers. Tell me the Sox wouldn't be more of a threat with him in the lineup in October.
AB H R HR RBI Avg OBP W-L
Jason Bay 160 48 35 8 34 .300 .358 27-13
Manny Ramirez 152 60 29 14 43 .395 .478 24-18
Varitek broke the Red Sox record for most home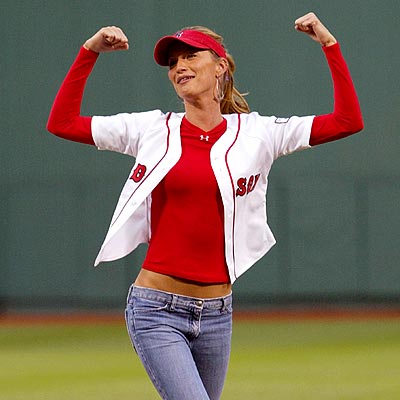 runs by a catcher, surpassing Carlton Fisk with his 158th. Rob Bradford (
WEEI
)
Lowell's Hip injury
is more of a nagging pain then a pop. Hopefully the Sox can rest him over the next few weeks.
Ortiz moved into second place in major league history for home runs by a DH with 244, trailing only Frank Thomas (269).
Dice K's 17th win is a record for a Japanese born pitcher. So he's got that going for him.
Julio Lugo is still making Dunkin Donut runs for Francona.
NL Notes.
Send Em' Sevum
is coaching the potential playoff bound Brew Crew...