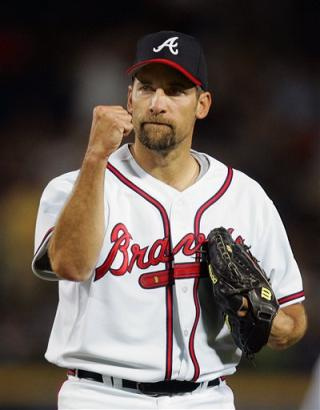 The Red Sox have
signed both John Smoltz and Rocco Baldelli to free agent contracts
. Not the glitzy signings you would expect from say the Yanks, but the Sox have done this year after year. They pick-up veteran guys on incentive laden deals and get the most out of them with the least amount of fiscal risk. These signings get me excited to see what's left in the tank for Smoltzy and if Rocco can be the guy they were comparing to Joe D.
There also is the possibility Theo is stockpiling talent to make a trade with the young guys (i.e. Bucholz, Bowden, etc.). You also have to wonder what the rotation will look like on the back end. There are the givens of Beckett, Lester, and Dice K of course. But, you now have flexibility with your 4th/5th starters any combo of Wake, Bucholz, Smoltz, Penny, or even Bowden. It is even possible Smoltz goes to a set-up roll I'd imagine if he's open to it. The bullpen would be looking solid with Smoltz, DelCarmen, Okajima, Ramon Ramirez, and Paps closing the door. Either way John Smoltz is better than any other 5th starter on just about every MLB roster.
As far as Baldelli coming home (Rhode Island native) I see good things he can give the Sox some
speed off the bench and doesn't give up any cheap hits in the outfield. His bat can be stellar at times and having another Right-handed bat to spell J.D. will obviously be necessary. I just wonder by the end of the year who gets more AB's out of the two often injured wonder-kids. Hopefully Baldelli's
disorder is in check and he can make it through the year
. I guess it will be a last man standing type of job.
The Sox haven't made a big splash in free agency yet. With these two moves they have addressed depth and most teams would kill to have Baldelli and Smoltz as "depth". Hopefully the Sox can get these guys some rings.